How to use Ninja Ripper [ENG | Upd 09.12.2015]
Категория: Рипперы
14-12-2015, 18:40
8 732
2

This article describes how to "rip" 3d models, shaders and textures out of the games using as an API directx 6, 7, 8, 9, 10, 11 versions for both 64 and 32 bit and import ripped models/textures into 3DS Max, Noesis or Blender.






Note: The article is designed for expirienced 3ds Max users and doesn't cover detail things such as, for example, texturing objects, setting up materials, etc.



Note: The article is designed for expirienced 3ds Max users and doesn't cover detail things such as, for example, texturing objects, setting up materials, etc.


3ds Max (I'm using 2009 х86) should work on versions: 2009-2015

Ninja Ripper v1.5.0 (ripper itself) Author: blackninja [page]

ninja_importer v2.1 (3ds max import script) Author: 3Doomer [page]

[не обязательно] ninja_importer v1.3 (3ds max import script) Author: blackninja [download]

[не обязательно] Noesis v4.172 (3d model viewer/converter) Author: Rich W. [page]

[не обязательно] Blender v2.49b (3d modeling software) Author: Blender Foundation [page]



1. Setting up the ripper.
Unpack the archive to any folder. Run the program.



Show all ripper features »

Show all ripper function description »



Select the game you want to "rip". In the Ripper window click the button '...' to select .exe of the game.






Note: You can add game's .exe by drag-and-drop from explorer window to the ripper window.



Choose the mode which is depends on what directX game is running. Modes description:

- Intruder Inject - mode in which the ripper will try to run .exe of the application/game directly, using for ripping only intruder.dll, if this mode doesn't work (do not rip or even response) then you need to select one of the wrapper modes;
- wrapper modes - modes in which ripper will copy d3dX.dll in to the folder containing the executable file of the application/game, after this ripper windows can be closed (not for the firefox rip though), then you can start the game from any location, copied d3dX.dll will automatically hooks the render in the game. Thus no longer need to run the ripper itself for this game. Here are available wrapper modes:


D3D8 Wrapper - for directx8 games only;

D3D9 Wrapper - for directx9 games only;

D3D11 Wrapper - for directx11 games only;

DDRAW Wrapper - for directx 6/7 games only;





Note: you need to delete .dll from the game folder manually (in case you want to use Intruder Inject mode), ripper configurations is stored in the registry



Start the game by pressing the Run button: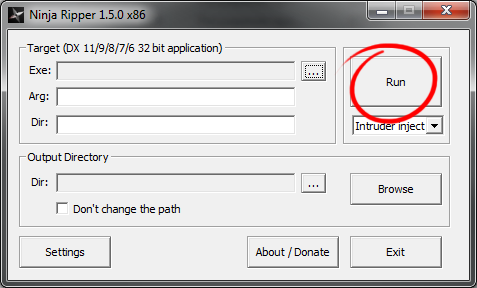 2. Game rip process.
After game is started the folde _NinjaRipper will be created near the application exe. In game choose the desired location and click the "rip" button (F10 by default). After pressing F10 the game will "freeze" for a second, then it will run for a bit and "freeze" again for about 5-25 seconds. Duration of ripping process depends on complexity of the game and the computer capacity. During the ripping process all the ripped resources will be storing inside the _NinjaRipper folder. 3d model format is rip, texture format is dds.




Press Textures rip button (F9 by default) to rip the textures only. Press Forced rip button to rip for a period of a seconds. It's important for ripping web sites (ex: WebGl) with 3d models. Firefox is officially supported only. I should mention that normaly after ripping process is over the game will be unfreezed and you can continue it from the same point. However there're numerous of games which continue runnig during ripping process or games which screen will dimmed after ripping process so you can hear the game but can't see it.



Show Internet browser rip process »

Show Console rip process »


Here's detailed description of all the importer functions:

Scene

• Bones - choose to or not calculate bones along with the Skin modifier and weights on imported meshes :

Don't create - bones and weights will be skipped on import;

Create at zero - bones will be created at mesh pivot center also Skin modifier will be created on the mesh;

Create at calculated position - bones will be created at calculated positions and Skin modifier will be created on the mesh;

Reuse scene bones - existing in the scene bones will be reused with the new imported bones;

Split the mesh by skinning when possible - as it says the mesh could be splitted by the mesh skinning properties;


• Flip Faces - check to flip polygons of the imported meshes;
• Scale - setup imported meshes scale;
• Position - setup XYZ position of the imported meshes;
• Rotation - setup XYZ rotation of the imported meshes;
• Miror - reflect imported meshes by XYZ;

UV coordinate

• Flip U - flips UV coordinates by U;
• Flip V - flips UV coordinates by V;
• Offset U/V - setup U or V offset ;
• Scale U/V - setup U or V scale;

Texture Indices. Look at the texture's ID which is related to the imported mesh. For example Tex_0001_0.dds defined by the number before ".dds" is usually used as diffuse texture.

• Diffuse - define which texture will be used for diffuse slot map by ID;
• Bump - define which texture will be used for bump slot map by ID;
• Specular - define which texture will be used for specular slot map by ID;

Import This section is for settings of the mesh import.

• Mode - choose to import single or group of files;
• Engine - use specific engine for meshes to import. For most of the time Other engine is just fine. However you can use the following engines: Frostbite 2, Frostbite 3, Frostbite 3.5, YETI engine;
• Path - path to the folders with rip files and textures. Press folder icon to change;
• File IDs - enter the mesh number to import. Could be the following input format: "0-15, 589, 67" or just "1" (without quotes);
• Import - button to start Import;



Show details on Outdated 3ds Max Importer »




Note: If files imoported into 3ds max (models/textures) will be to many than 3ds max will crash. So choose and import exactly what ever you wanna work with by looking in texture names.



Riped models (sometimes textures) can be also loaded into Blender or Noesis tools.


use this python script to import models into Blender (by Akaito);

script for Noesis is in the NinjaRipper archive;



4. About textures.
Textures are always .dds files. They are automatically loaded into 3ds max for most of the time. It should be noted that each model corresponds several textures, for example a model Mesh_0000.rip can have multiple textures with names Tex_0000_1.dds, Tex_0000_2.dds, Tex_0000_3.dds etc. But you can only load one of these textures in 3ds max. What is the texture will be loaded is selecting in the importer by changing number in Texture Indices function.



Note: If you use a programs for generating "preview" for .dds files in Windows explorer (I use Mystic Thumbs) then when ripping dx11 games the mini-preview for such .dds will not be shown, because they have wrong file header, the problem is not solved yet. However you can edit/view those dx11 .dds files in photoshop/irfanview/etc.