Hunting Gun
3D model
Для правообладателей
Все модели опубликованы пользователями, таким образом p3dm.ru не несет ответственность за их содержание. Все авторские права принадлежат указаным владельцам. Если вы являетесь правообладателем файла "Hunting Gun", находящегося на сайте p3dm.ru и не желаете, чтобы он и далее находился в свободном доступе, то мы готовы оказать содействие по удалению данного материала. Просто напишите нам.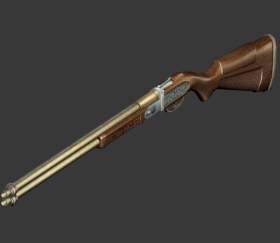 Описание
The Hunting Gun is the first shotgun weapon found in Resident Evil 0, besides the Shotgun.

A hinge-action, Over and Under shotgun designed for, as its name suggests, hunting. The hunting gun is found just before the scorpion boss on the train. It has a higher firepower than the pump-action shotgun, but can only hold two shells at a time and seven shells can be collected from the same area in which the player finds the gun, and it has a tight spread, useful when killing a single target. The weapon can be obtained with Infinite shells after taking 60-89 Leech Charms in the Leech Hunter minigame.
(Wiki).
Комментариев: 0

Характеристики модели
Статистика