SVT-38 Sniper rifle
3D model
Для правообладателей
Все модели опубликованы пользователями, таким образом p3dm.ru не несет ответственность за их содержание. Все авторские права принадлежат указаным владельцам. Если вы являетесь правообладателем файла "SVT-38 Sniper rifle", находящегося на сайте p3dm.ru и не желаете, чтобы он и далее находился в свободном доступе, то мы готовы оказать содействие по удалению данного материала. Просто напишите нам.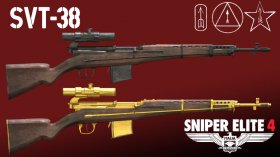 Описание
Soviet SVT-38 Self loading sniper rifle used in the winter war with Finland and in WW2.
Model is from Rebellions Sniper Elite 4 game. All rights belong to original creators and Rebellion.
Regular and Gold textures included.
Комментариев: 0

Характеристики модели
Статистика