Hand Cannon
3D model
Для правообладателей
Все модели опубликованы пользователями, таким образом p3dm.ru не несет ответственность за их содержание. Все авторские права принадлежат указаным владельцам. Если вы являетесь правообладателем файла "Hand Cannon", находящегося на сайте p3dm.ru и не желаете, чтобы он и далее находился в свободном доступе, то мы готовы оказать содействие по удалению данного материала. Просто напишите нам.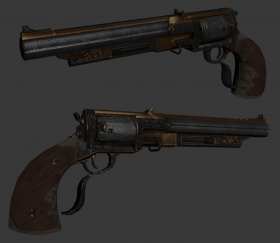 Описание
"The PADDYWHACKER: A revolver with immense stopping power."
? Fink Manufacturing advertisement

The Paddywhacker, known in-game as the Hand Cannon, is a top-break pistol based on the 1851 Colt Navy percussion cap revolver and can be used by Booker DeWitt in BioShock Infinite and Burial at Sea - Episode 1, and by Elizabeth in Burial at Sea - Episode 2. It is an accurate and rather powerful firearm, strong enough to kill certain enemies with a single shot and even decapitate them entirely.

The revolver is first seen in the Heavy Hitters Part 1: Motorized Patriots trailer when Booker encounters a Motorized Patriot. In the final game, the Hand Cannon can be first acquired when meeting up with Mr. Flambeau.
Комментариев: 0

Характеристики модели
Статистика