BF1 BL 9.2 Siege Gun
3D model
Для правообладателей
Все модели опубликованы пользователями, таким образом p3dm.ru не несет ответственность за их содержание. Все авторские права принадлежат указаным владельцам. Если вы являетесь правообладателем файла "BF1 BL 9.2 Siege Gun", находящегося на сайте p3dm.ru и не желаете, чтобы он и далее находился в свободном доступе, то мы готовы оказать содействие по удалению данного материала. Просто напишите нам.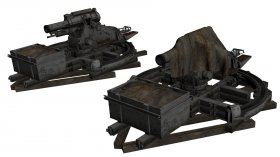 Описание
A Gun-howitzer is a type of artillery weapon that is intended to fulfill both the role of ordinary cannon or field gun, and that of a howitzer. It is thus able to convey both direct and indirect fire.

The first gun-howitzer was the French canon obusier of 19th century. The smooth-bore Canon obusier de 12 was a versatile weapon that quickly replaced both ordinary cannons and howitzers in French service, and became one of the basic types of artillery used by both sides of the American Civil War. Owing to their versatility, gun-howitzers gained prominence in the period leading to World War II as a more flexible weapon than ordinary howitzers and were adopted by armies of both the Allies (for instance the Soviet ML-20 152 mm M1937 and British (88 mm) Ordnance QF 25-pounder) and the Axis (German 10.5 cm leFH 18).
Комментария: 3

Характеристики модели
Статистика